Industrial Nameplate Engraving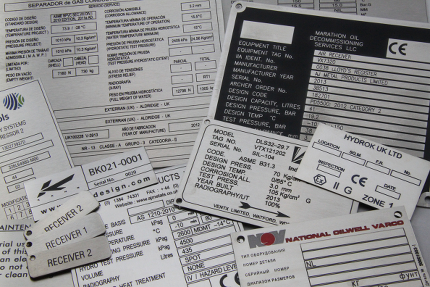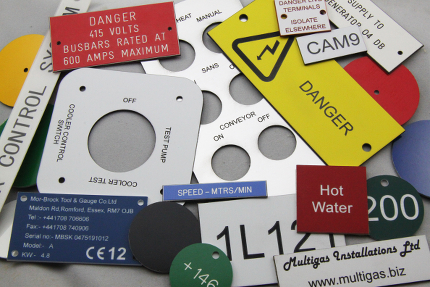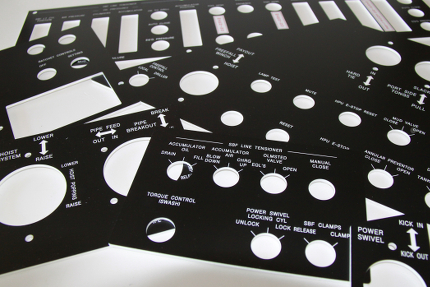 STAINLESS STEEL AND ANODISED ALUMINIUM NAMEPLATES
We manufacture nameplates, rating plates and ID tags in a range of thicknesses from 0.5mm to 3mm.
They can be either etched normally, that is with data removed and paint filled, or in relief. We can etch logos and add multi-colour paint fill to exactly replicate your company image, adding value to your products.
We only use high quality material, all our stainless steel is 316 grade and is fully traceable.
Sequential numbering and nameplate specific data is no problem. All products are finished to the highest standard, with holes added where needed or a self-adhesive backing applied. We can even bend to a set diameter and put a radius on the corners.
Orders of 1,2,3 or 5000 pieces are all equally important to us. All you need to do is send us your drawing and we will work from there. We are also happy to accommodate your unique requirements, such as material type, unusual thicknesses or pantone colours.
RIGID PLASTIC LABELS
A full range of I.I.P. compliant traffolyte type rigid plastic labels and nameplates are available for engraving in a range of thicknesses.
Ideal for:
Electrical cabinet/frame labels, electrical outlet labels, safety labels, valve tags, serial plates, identification labels, plant labels, desk nameplates, door nameplates, etc.
Sequential numbering and nameplate specific data can be accommodated. Self-adhesive backing or fixing holes can be provided as required. Batch sizes from 1 upwards. Fixing ties for valve tags can be supplied.
CONTROL PANELS
We manufacture control panels and control panel labels in 316 grade stainless steel and rigid plastic, engraving all data, adding cut-outs and fixing holes as required. Coloured infill can be added if required, as can vinyl overlays.